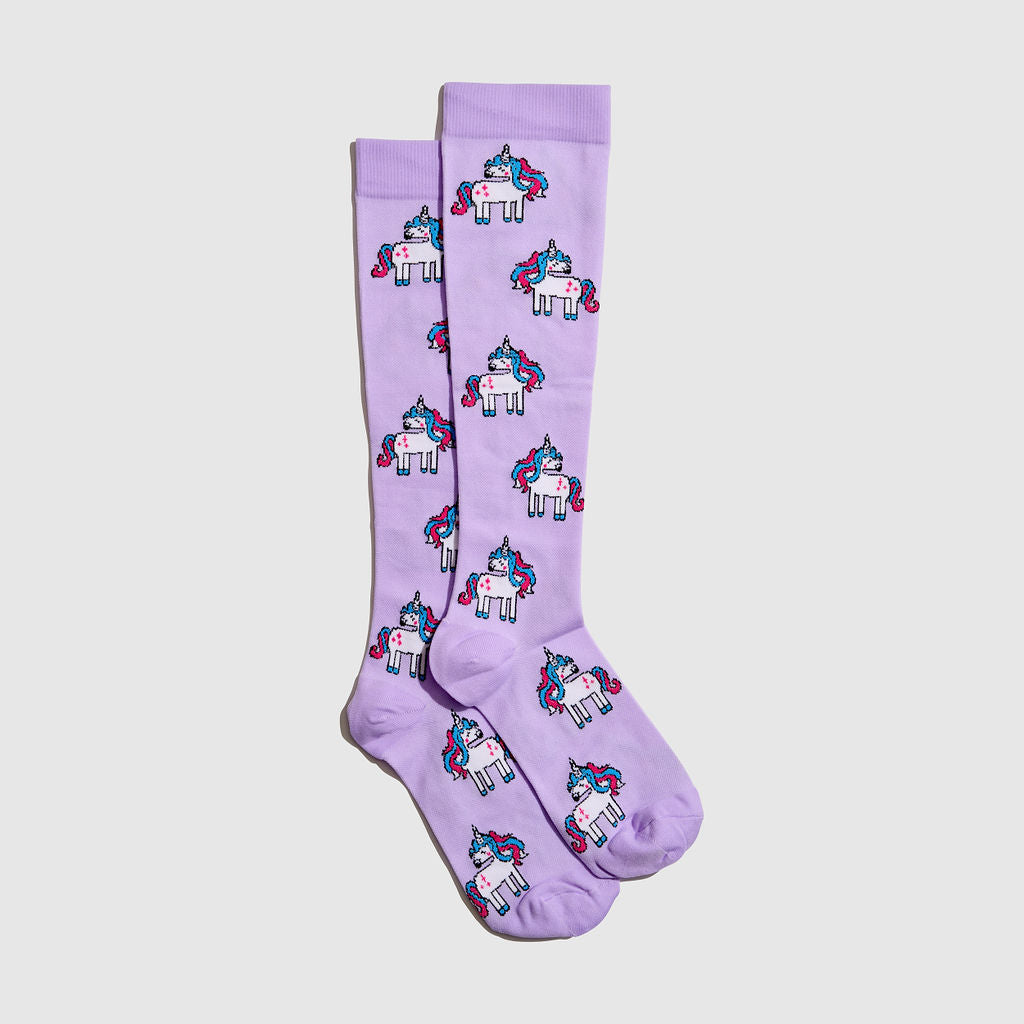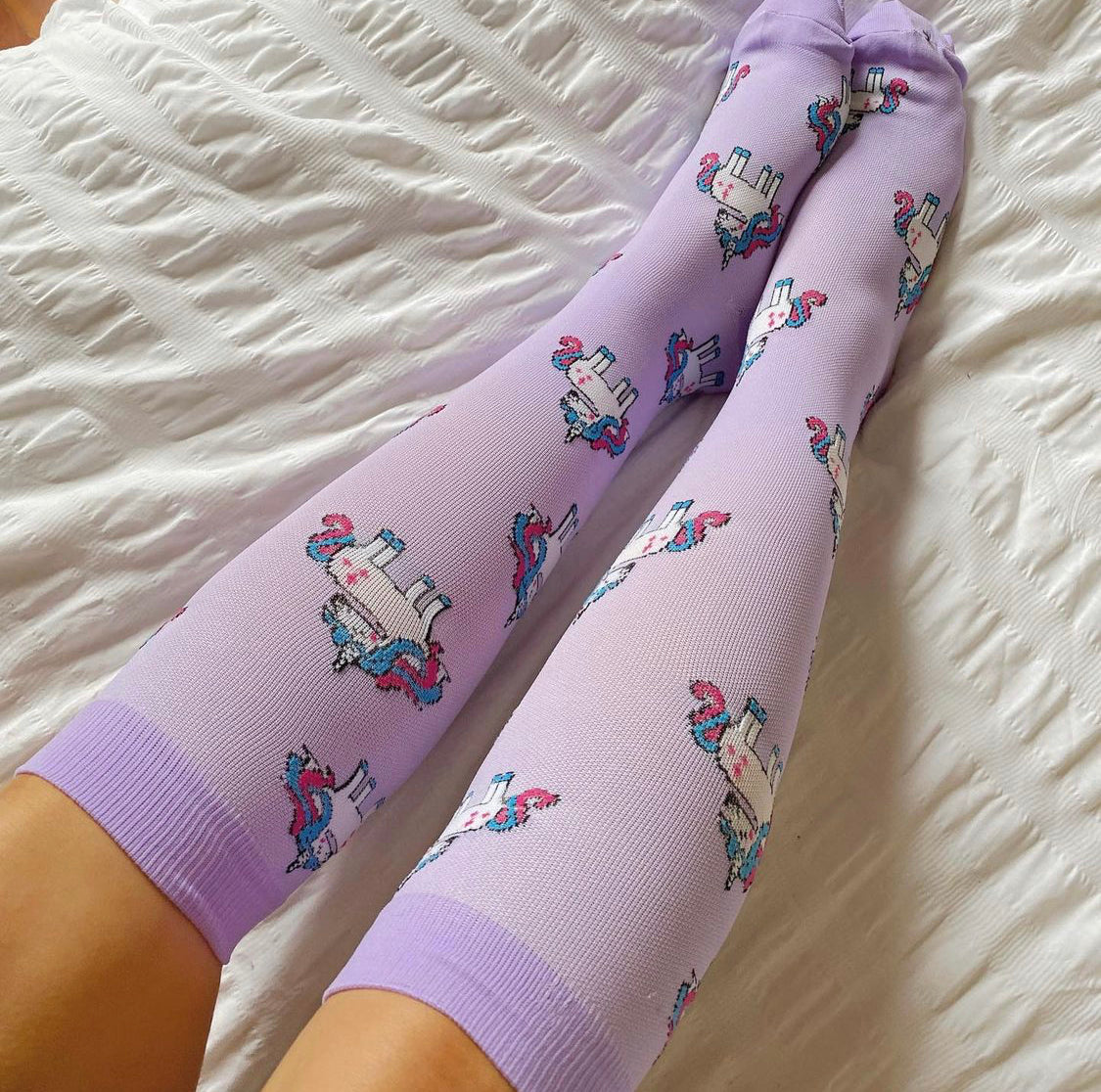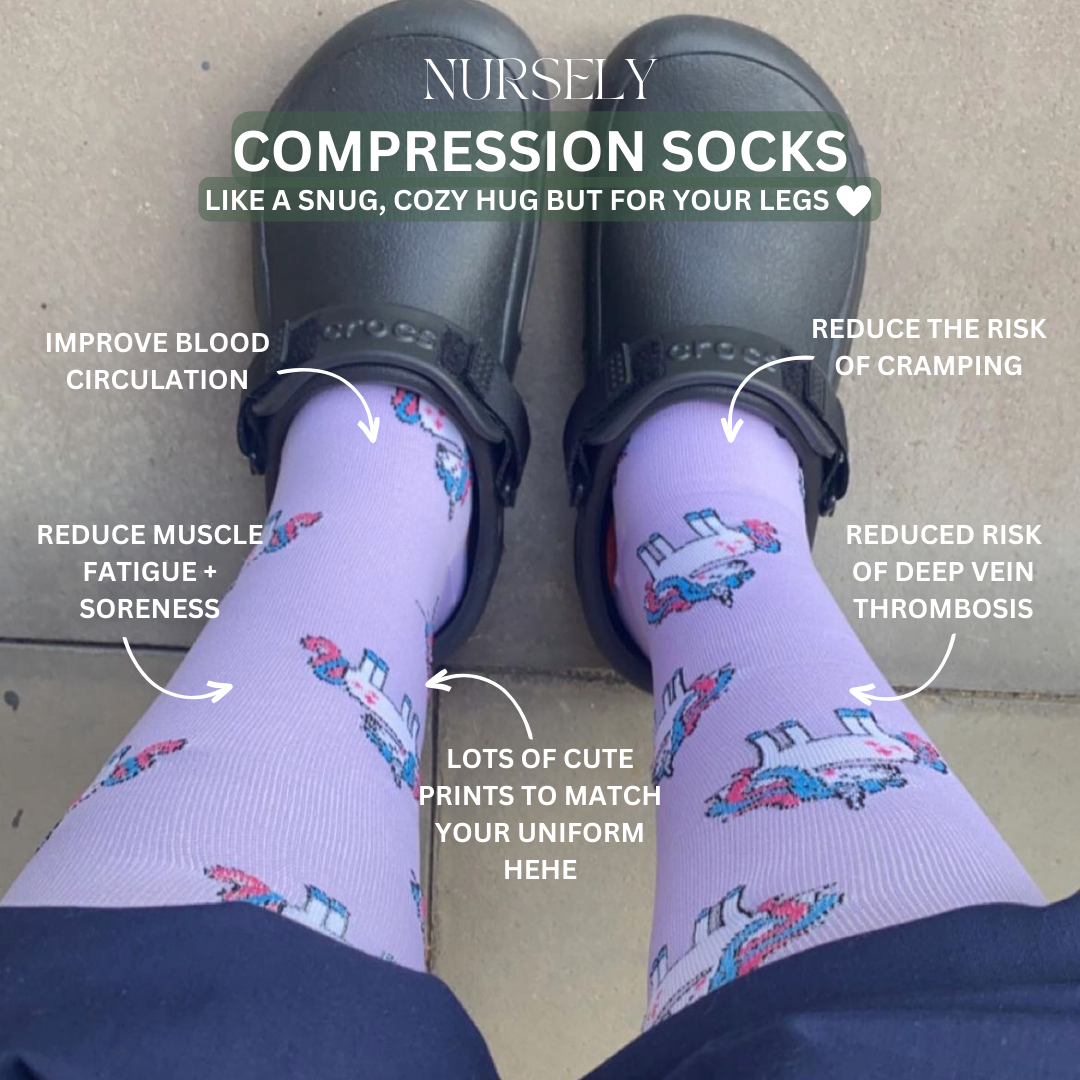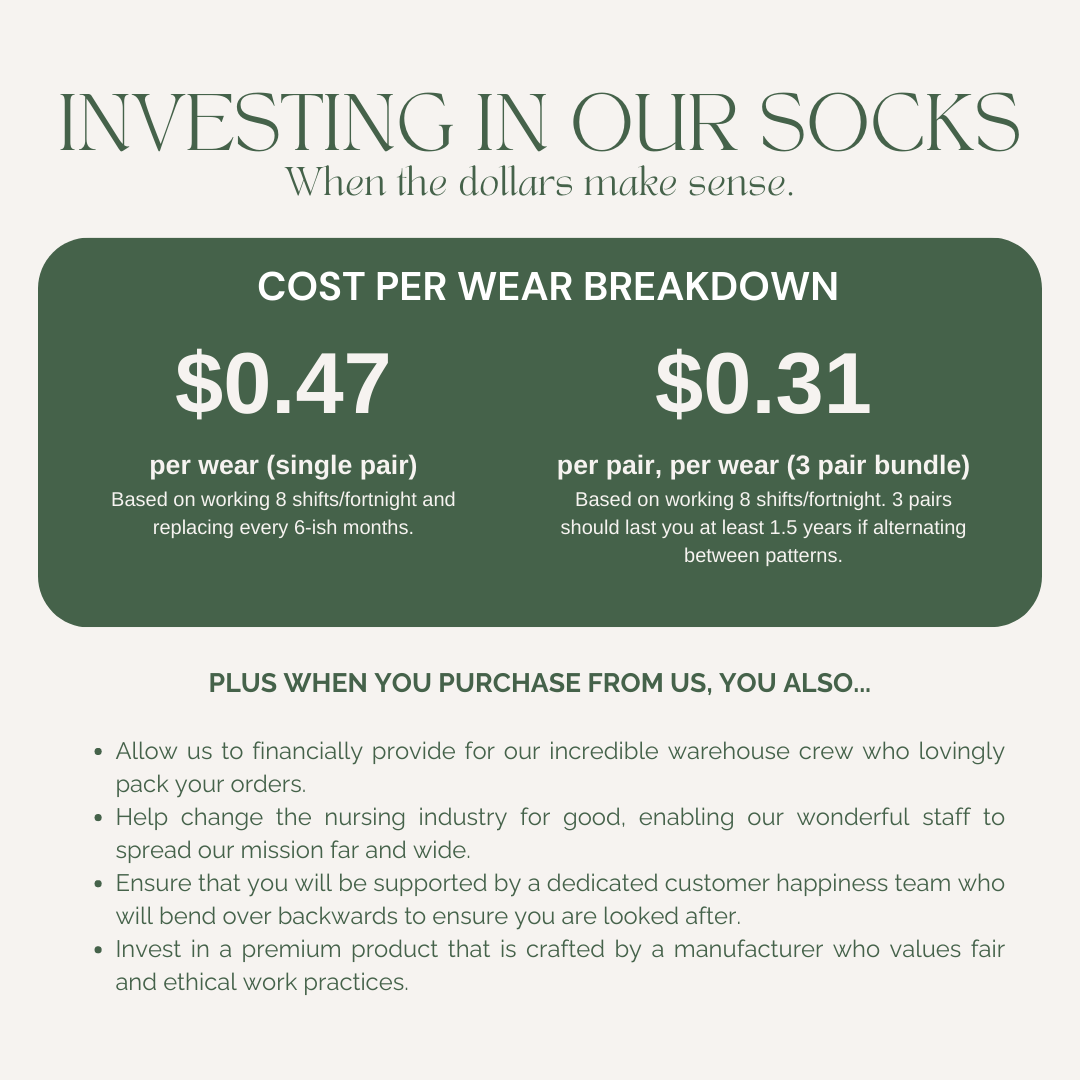 UNICORN COMPRESSION SOCKS
Sale price

$39.00
Regular price
(/)
---
WAY MORE THAN A SOCK UPGRADE - THESE BABIES ARE YOUR ULTIMATE SELF-CARE COMPANIONS.
For our fellow nurses elbow-deep in patient care, these socks are a total game-changer. In a world of elusive lunch/bathroom breaks and burnout, our cozy compression socks rewrite the rules. They shout, "Hey, it's time to look after YOU!"
Slip into these socks with their multiple health benefits (goodbye sore, swollen legs!), and not only will your feet find paradise, but your entire vibe will level up. And yes, brace yourself for a tsunami of compliments as you get to express your personal style that's as legendary as your nursing skills.
But here's the scoop – it's not just about socks. It's about change. The nursing realm is overdue for a transformation, and we're leading the charge.
Remember those days of putting everything ahead of you? Well, consider them ancient history. Our socks nod to YOUR well-being, wink at self-care, and high-five a healthier nursing culture. Feel that? It's the satisfaction of finally doing something just for YOU. Trust us, when you thrive, so does everyone around you (studies have spoken).
Be part of the self-care movement, light up your workplace as the superstar example, and let your feet declare, "I'm the priority, and it's my time!" Your patients are in great hands, and your feet? Let them be snugly embraced in our comfy AF compression socks.
Oh and P.S. our socks aren't just for nurses, they are loved by travellers, athletes, retail workers, office workers, pregnant mamas and anyone who sits or stands all day!
Having trouble picking just one pair? Mix and match your 3 faves for $99 - discount automatically applied at checkout (offer cannot be used with any other discounts).
Unsure about which size is right for you? Check our size guide below.
IMPORTANT:
Our compression socks require special love and care - please ensure you know how to look after them by having a read of our care guide.
Please note - colours may vary slightly.
Whilst we would love to see everyone in our socks, we 

must

 stress that if you have serious circulatory problems, have had major surgery or chronic illness or are pregnant - please consult your healthcare professional prior to using our compression socks. By doing so, you can determine whether or not our socks are suitable for your individual needs. 
SIZE + CARE GUIDE

IMPORTANT: Please note, socks are a type of underwear. For this reason, we are unable to accept returns for incorrect choice of size. Please follow our size chart below to choose your size carefully. 



Have a cheeky measure of your calf to ensure you are getting the right size. All of our compression socks are designed to give light-moderate level of compression (15-25 mmHg).



For calf measurements, please use a tape measure around the thickest part of your calf. If you are sans tape measure at home, TED stockings usually come with one in each packet- keep an eye out the next time you come across one at work.



If your calf measurement is on the cusp of being in between sizes, go with how you prefer your compression socks to feel. If you prefer a more firm compression, go with the S/M and the L/XL if you are wanting less compression. 



Please note that upon first wear, the level of compression will feel quite firm especially if you are new to wearing compression socks. When on, please make sure the socks are pulled up knee high in order to provide the correct amount of compression.

Size

Calf Measurement (cm)
Shoe Size
S/M

23-38

Womens 7-10.5

 L/XL

35-45

Womens 8.5-12.5

 

 

It is normal for compression socks to feel tight and appear stretched when worn. These socks are designed to apply consistent pressure to your legs, which helps improve blood circulation and reduce swelling. The snug fit ensures that the compression therapy is effective.

Each person may have a slightly different experience with our compression socks. Some individuals may find the tightness/stretch to be more noticeable, while others may not. It can depend on factors such as personal preference and the specific fit of the socks to their calves.

Care Guide

Our beautiful compression socks are sensitive little beings, and need to be handled with love and care. Plus you've invested your hard earned coin to level up your self-care game, so it's best to know how to get the most out of it!

We recommend hand washing after each use to ensure your beautiful new socks last as long as possible. however, we live in the real world, so gentle warm wash between 30-40 degrees with similar colours please. If your washing machine has a hand-wash cycle, even better! extra points if you wash those babies in a mesh laundry bag.

If you do hand wash, please don't wring them out - just give them a gentle lil' squeeze to get out all of the excess water.

As previously mentioned, compression socks are a sensitive breed, so gentle detergents only, avoid fabric softeners if you can and definitely no bleach.

The good news is, if you're in a pinch you can tumble-dry these bad boys or if you've got the time you can let them air dry. in fact as the socks start to age, a session in the dryer will actually help shrink the elastic fibres and keep that compression at an optimal level - just make sure your dryer isn't too hot (i.e. not hotter than 30 degrees)!

Lastly, never dry your compression socks in the sun or place them on a heater/radiator otherwise you will essentially cook (and therefore ruin) the elastic fibres - not a vibe.

As the elastic fibres do deteriorate over time, it is recommended by our manufacturer that our socks be replaced every 3-6 months to ensure that the correct amount of compression is being delivered.



Our socks are made of a 65% nylon, 30% polyester and 5% spandex blend.
SHIPPING + RETURNS

We use Australia Post to ship our items. Please see the below table for shipping and handling times. Currently, we only ship within Australia and New Zealand.

| | | | |
| --- | --- | --- | --- |
| Service | Price | Dispatch | Delivery |
| Standard (within Australia) | FREE for orders over $80 ($10 for orders less than $80) | 1-3 Business days | 2-8 Business days after dispatch |
| Express (within Australia) | FREE for orders over $120 ($15 for orders less than $120) | 1-2 Business days | 1-4 Business days after dispatch |
| Standard (to New Zealand) | $5 for orders over $80 ($15 for orders less than $80) | 1-3 Business days | 6+ Business days after dispatch |
| Express (to New Zealand) | FREE for orders over $120 ($20 for orders less than $120) | 1-3 Business days | 4-8 Business days after dispatch |

 

Receiving Your Order

Once we have dispatched your order, we are no longer responsible for any delays, damages or losses that could potentially occur during transit. We take the utmost care and pride in taking care of and packaging up your goodies, however once we hand them over to Australia Post we unfortunately have no control over how they are treated.

Refunds & Returns

Due to socks being a type of underwear, we are unable to accept returns unless the product is faulty. Please ensure you use our sizing guide to ensure you are ordering the correct size. We do not provide refunds for change of mind or for ordering the incorrect size.

If you receive faulty or damaged items, we will replace them free of charge provided there are no signs of tampering or wear and it is within 30 days of receiving your order. Please get in touch with us via our Contact Us page for any refund/return inquiries.
UNICORN COMPRESSION SOCKS
Sale price

$39.00
Regular price
Choose options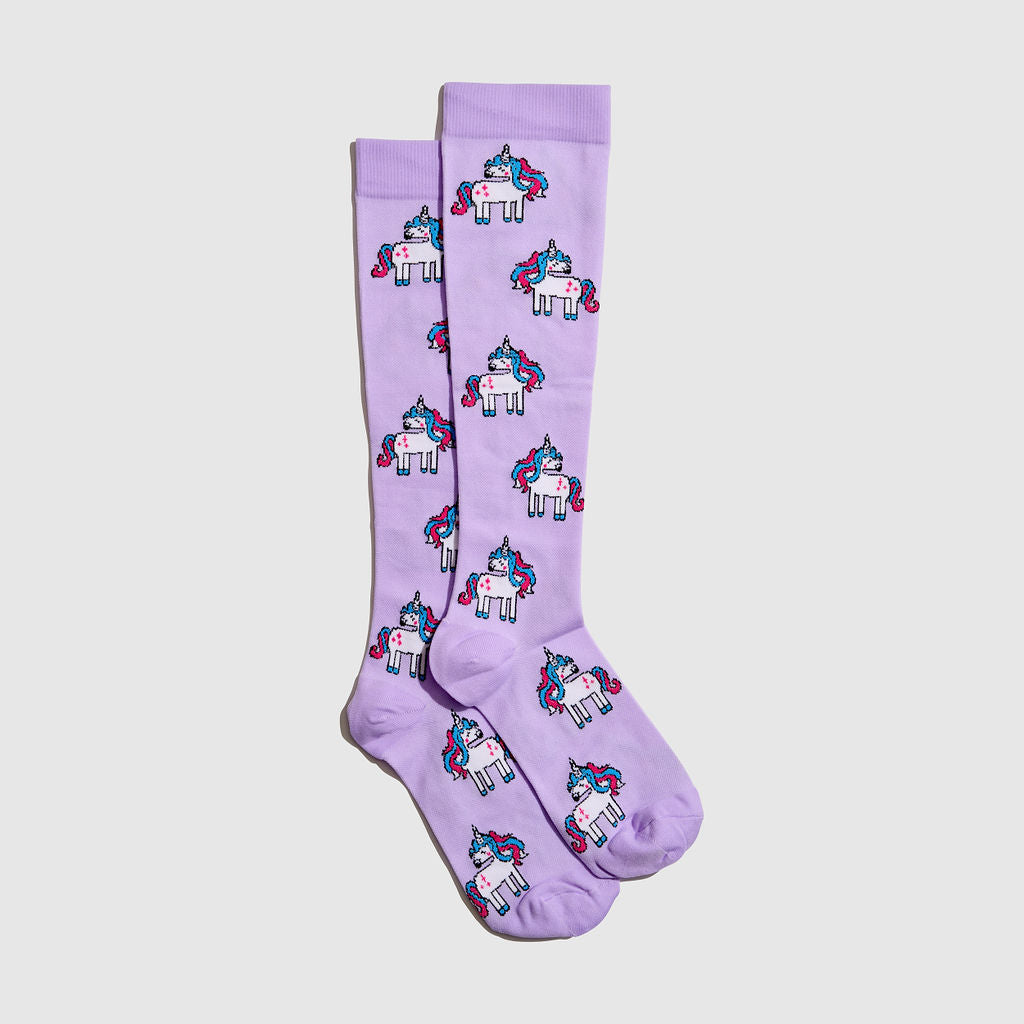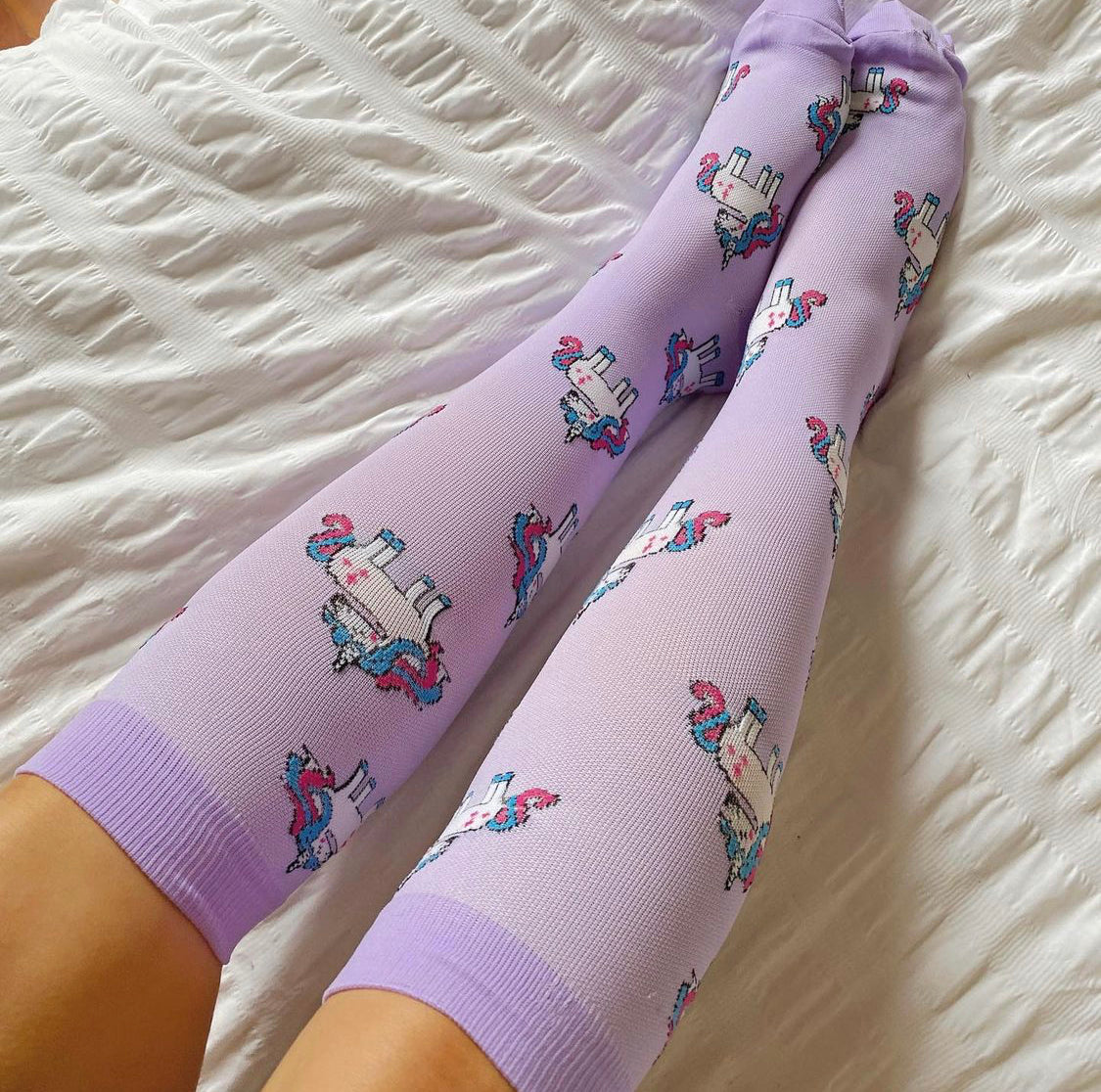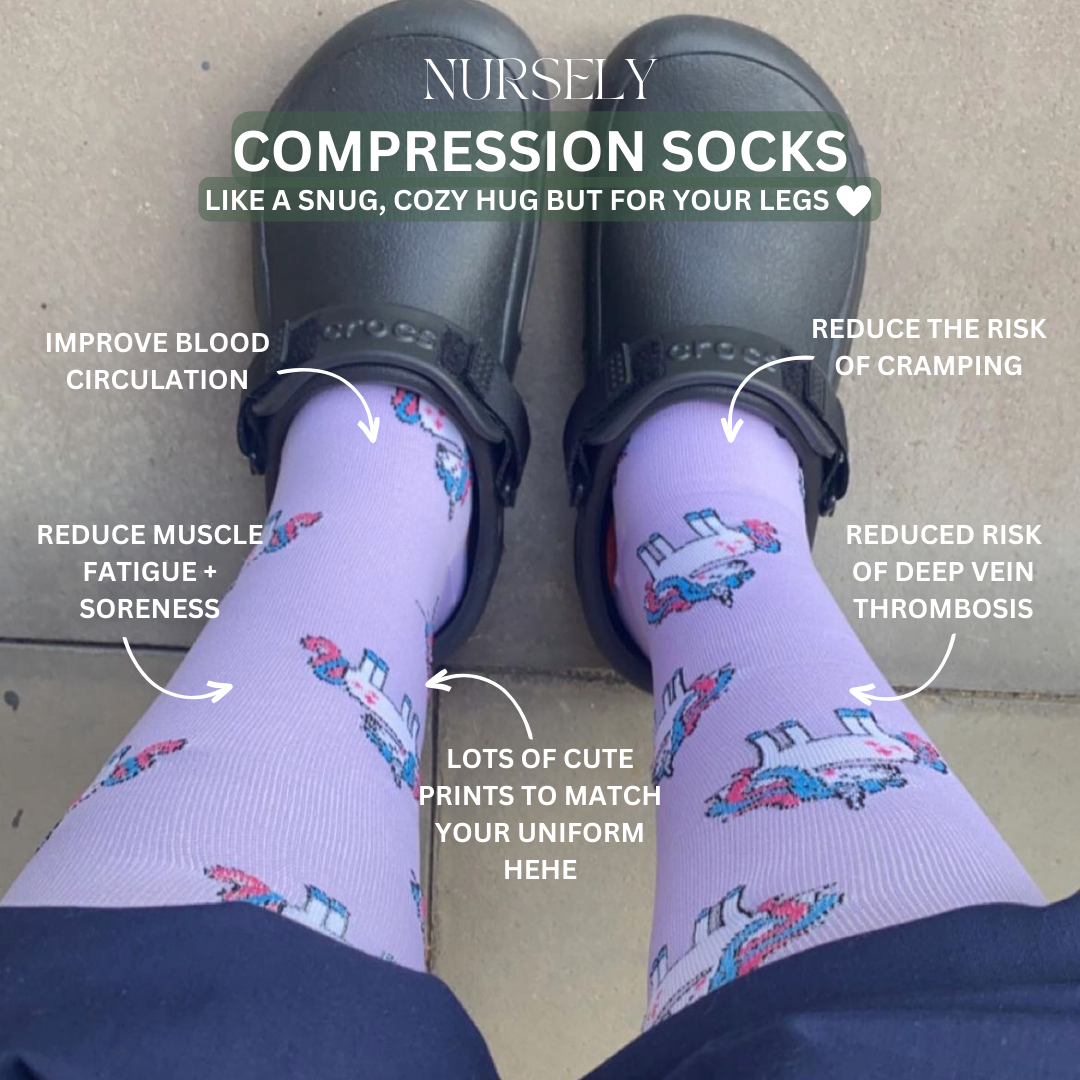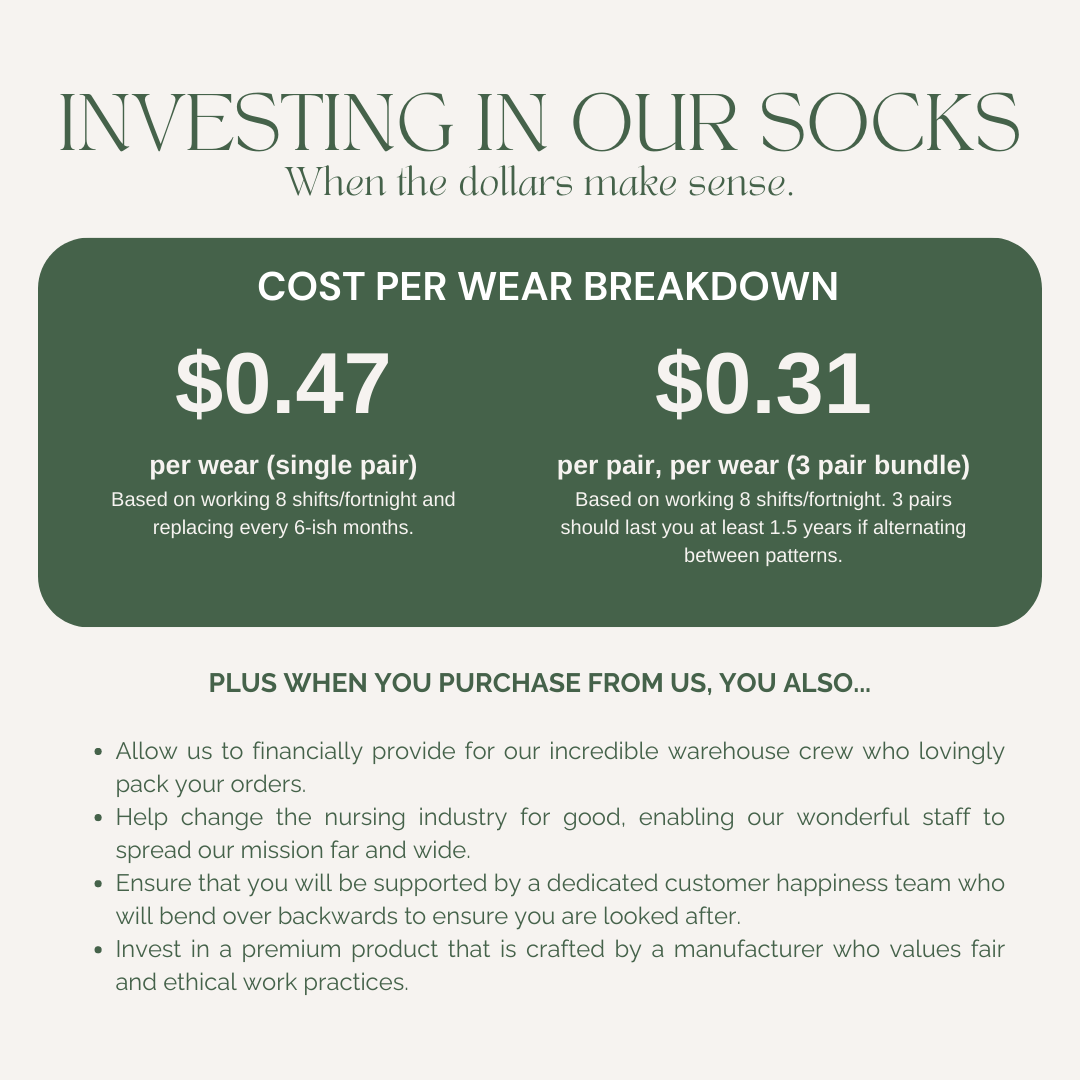 Graduated light-moderate compression to reduce leg fatigue and swelling, improve circulation and assist in preventing varicose veins

High-quality breathable material

Moisture wicking fabric to keep your tootsies dry

Non-slip cuff so they stay up all day (or night!)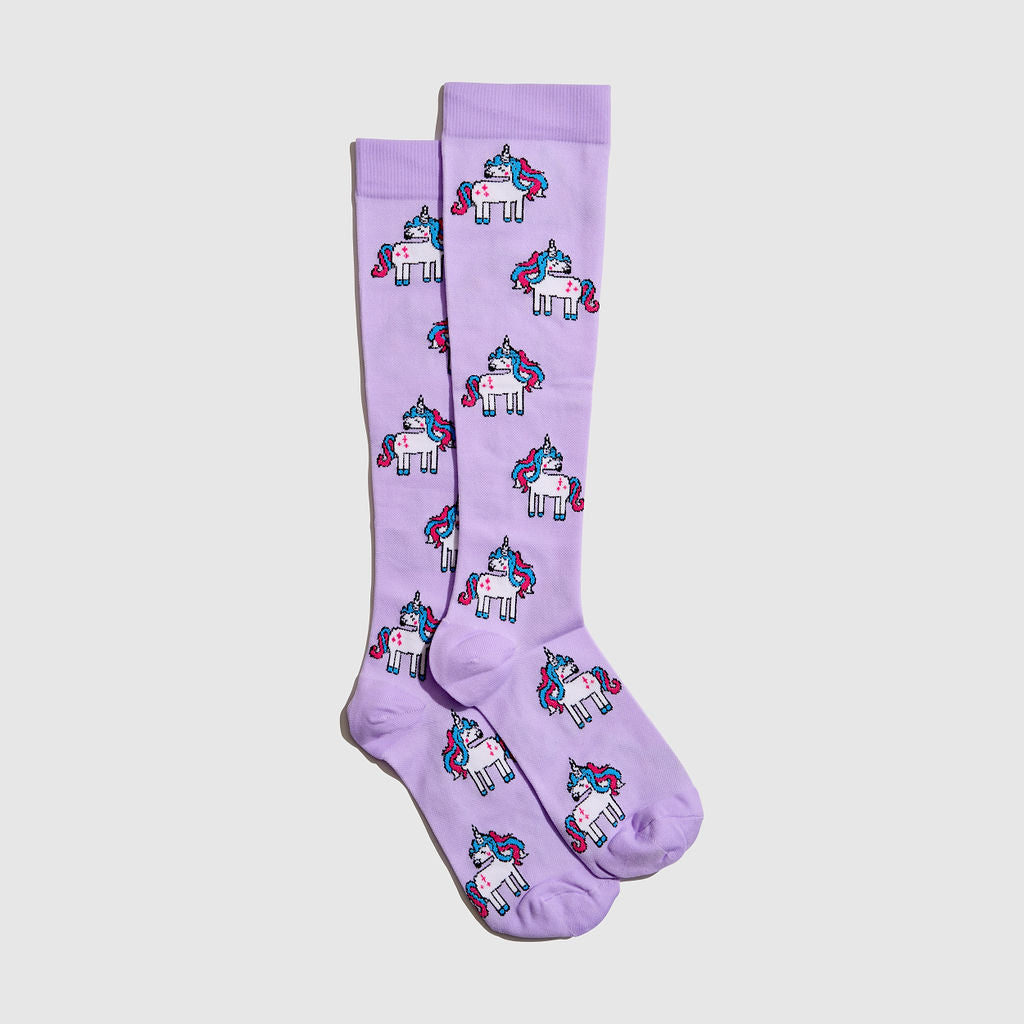 "Super cute compression socks! I have absolutely loved these since they arrived. I have noticed such a difference in my calf pain during my 10+ hour shifts. They are an absolute MUST!"
Laura M, Eagle Farm QLD
Verified Buyer
★★★★★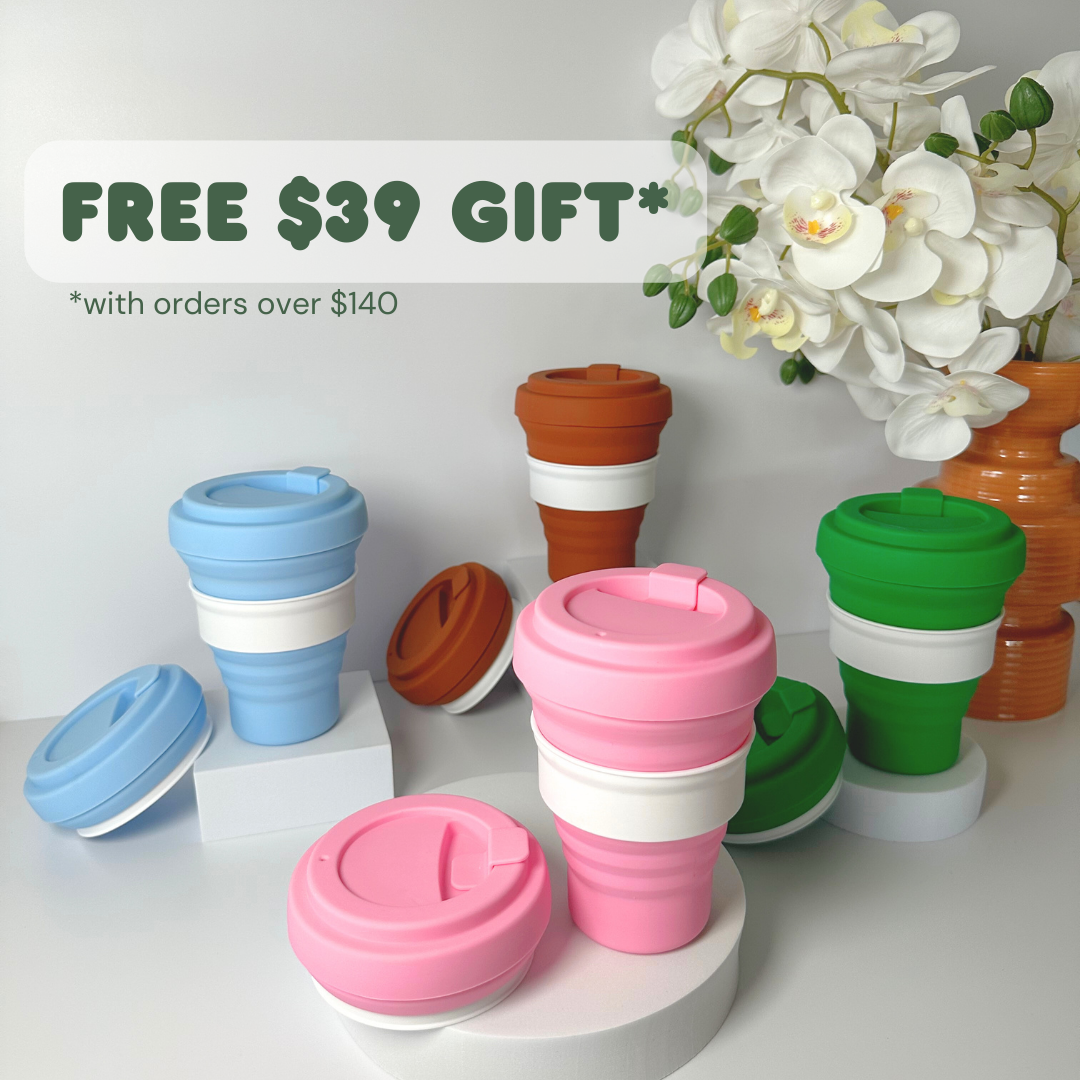 The perfect travel cup ☕
FROM US, TO YOU
Receive a beautiful 470mL collapsible travel mug made from 100% BPA free silicone with all orders over $140. There are 4 stunning colourways available.
Enjoy your (essential) morning hot bevvie on the way to work, then rinse, collapse down and chuck it in your bag to take home!